Maintain your horse at optimum health
The Equine Center's veterinarians can help you design and implement a vaccination and deworming program that is most appropriate for your horse or herd.
Good equine health practices include:
Vaccination program customized for your horse
Regular deworming
Good nutrition
Regular dental care
Annual physical exam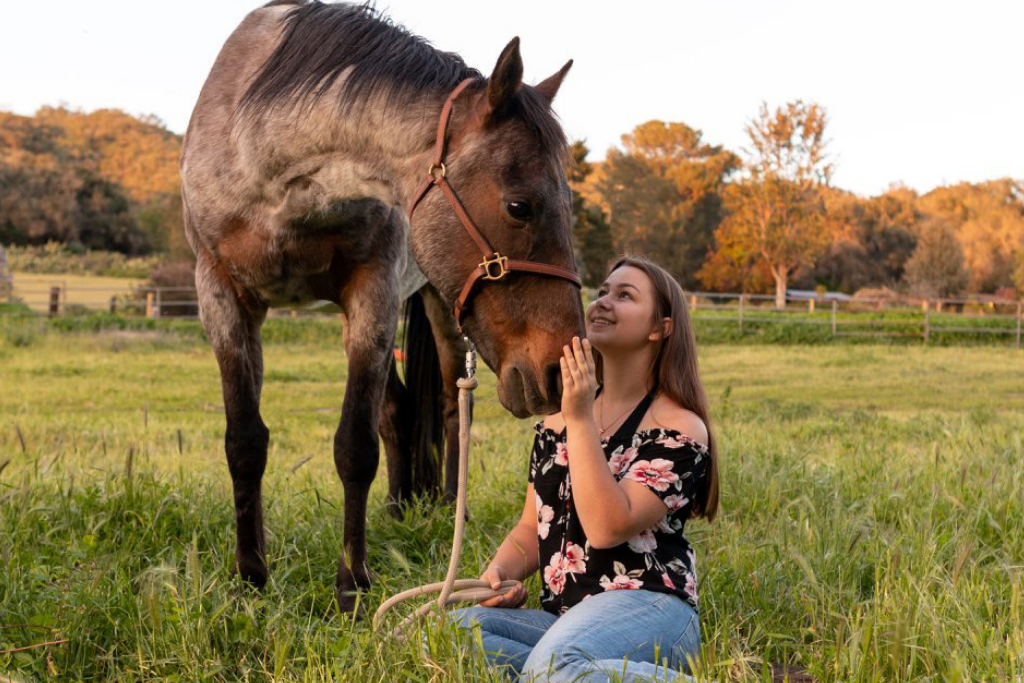 The goal of wellness or preventive medicine is to maintain optimum health in your horse. Good equine health practices include good nutrition, regular deworming and parasite monitoring, a vaccination program suited to your horse's circumstances, and regular dental care.
Yearly physical and dental exams can improve and lengthen your horse's life by identifying and resolving potential problems early, thereby reducing the risk of illness later in life. Dental health in the horse is often overlooked, but is vital to your horse's overall well being at all life stages. Improper dental care may lead to colic, choke, nutritional deficiency, infection, discomfort, and weight loss.
EFFECTIVE AFFORDABLE CARE WITH WELLCARE EQ DESIGNED JUST FOR YOU AND YOUR HORSE
The Equine Center's Veterinarians can help you design vaccination and deworming plans that are most appropriate for your horse or herd. In order to evaluate and maintain the efficacy of your deworming program, we recommend routine fecal analysis; a valuable technique used for parasite identification
The Equine Center has multiple wellness programs available to suit your horse's needs.  All horses on a TEC wellness program are eligible to receive emergency services, if ever needed.  The Equine Center is dedicated to providing prompt emergency services to our established clientele and their animals.
We offer a very effective and affordable wellness program, called WellCare EQ™. It is an exclusive equine wellness program designed to optimize your horse's health by encouraging preventive care to identify and treat problems before they become serious. Horses on this program have proven to be four times less likely to need hospital services than horses not on a veterinary supervised preventative healthcare program. Most horses that enroll in The Equine Center's WellCare EQ programs, and stay compliant with the programs' guidelines, qualify for up to $10,000.00 in surgical colic expenses from companies like SmartPAK™ and Platinum Performance™.
Choose the plans that is right for your Horse
Frequently Asked Questions
Are farm calls really free and when are the free farm calls available?
—YES!  Farm calls are really free and unlimited for horses enrolled in WellCare EQ™Platinum.  Free Farm calls are available on a prescheduled basis in the afternoon. North County Calls available on Tuesdays and Thursdays. SLO and South County calls available on Wednesdays and Fridays.
How many Free Emergency visits a year do I get?
—Emergency fees are waived for one call once per enrollment period for horses enrolled in WellCare EQ™ Platinum. All other costs for the visit are charged separately.
I am on The Equine Center's wellness programs. Is my horse automatically enrolled for Platinum Performance's Colic Coverage?
—Yes and No. With WellCare EQ and WellCare EQ Plus your horse is eligible, but you still need to enroll in the Colic Coverage program. With WellCare EQ Platinum your horse is signed up and covered.
What is a Complete Blood Count (CBC) and Serum Chemistry and why does my horse need it?
—The CBC quantifies the types of cells in a blood sample—specifically the red cells, the white cells and the platelets. Run on a sample of whole blood that has been blended with an anticoagulant, the CBC is a general-purpose screening tool that can yield a great deal of information about a horse's general health. The Serum Chemistry focuses on the clear, yellowish liquid left after all the solid blood cells are removed by clotting and then centrifuging, the serum chemistry profiling can identify levels of various proteins and enzymes, electrolytes and other biochemicals that indicate overall health as well as individual organ function.
What is a Metron Hoof Report?
—This is an image-based report using radiographs and photographs to track the health and balance of your horse's front feet.  The report includes specific measurements to aid you and your farrier in the best care for your horse.
What other benefits do I get by signing up for a wellness plan? 
—WellCare EQ™ members in good standing receive preferred scheduling and get a 15% discount for all services, performed at The Equine Center, including dentistry.
What happens if I sell my horse?
—You can transfer the remaining balance of the program to the new owner free of charge (in The Equine Center practice area), or apply the remaining program services to another horse under the same ownership. There are no refunds for horses that move out of The Equine Center's practice area.
Can I pay monthly?
—Yes, for WellCare EQ it is $165 initiation then $27/month for continuous coverage. WellCare Plus is $220 initiation then $36/month for continuous coverage. WellCare EQ Platinum costs $200 initiation then $110/month for continuous coverage.