Our Rehabilitation Center Experience
Our goal in developing our sports medicine and rehabilitation programs is to use scientific knowledge, gained in both human and equine medicine, to raise the standard of care and performance of the athletic horse.
Goals Of Rehabilitation
Relieve Pain
Restore Range of Motion
Regain Strength
Return for Intended Use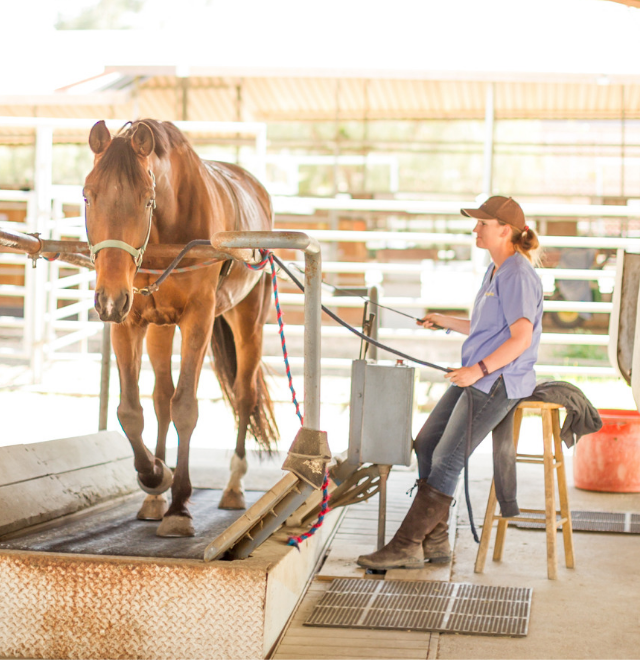 The Equine Center's team of experienced veterinarians and staff work alongside owners, trainers, chiropractors, farriers and other professionals to evaluate a horse's condition and their physical potential. We design the most appropriate course action for each individual to meet the owner's goals, whether that is a return from injury or a maintenance plan for fitness.
The Equine Center has successfully rehabilitated a vast array of injuries such as tendons, ligaments, joint pain, back pain and recovery from surgical procedures.
Therapeutic Tools Available
High Speed Incline Treadmill with Heart Rate Monitor
Therapeutic Ultrasound
Iontophoresis
Trans-cutaneous Electronic Nerve Stimulation
Radial Shock Wave Therapy
Acupuncture and Chiropractic Therapists
Hotwalker
Corrective trimming and shoeing under radiographic guidance
Successful rehabilitation programs are achieved with the collaborative efforts of horse owners, trainers, veterinarians, farriers, and chiropractors. With input from each of these people, customized programs are able to be developed to address each individual horse's needs.